Oncoscience is an open-access traditional journal with a special mission: Freeing oncology from publication cost.
It is free for the readers and the authors.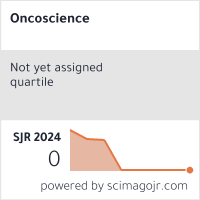 Oncoscience applies the recommendations of the Committee on Publication Ethics (COPE) to all works we publish.
See our papers in PubMed Central(PMC) and PubMed.
Impact Journals, LLC meets the Wellcome Trust Publisher Requirements, and is now a member of the Wellcome Trust List of Compliant Publishers
The Editorial Board includes 20 members of the National Academy of Sciences USA, 6 Lasker Award winners, Nobel Prize winner (Andrew Schally) and other renowned scientists.
Oncosicence has published papers by John C. Reed, Tony  Hunter, Andrew V. Schally (Nobel Prize winner) and other outstanding authors.
News:
Oncoscience is now offering Free Altmetric Article Reports as a new part of our Journal platform to provide real-time tracking of article coverage in digtial and traditional media channels, often long before traditional citations begin to accrue. Here are some resources where you can learn more about: Altmetric Analytic Software , Adding Altmetric data to your NIH Biosketch, What is the Altmetric donut , and How is your Altmetric score calculated
September 2016: Two members of the Editorial Board of Oncoscience, William G. Kaelin, Jr. and Gregg L. Semenza, won 2016 Lasker Award for the discovery of the oxygen-sensing pathway.
September 8, 2015: Stephen J. Elledge, member of the Editorial Board, receives Lasker Award